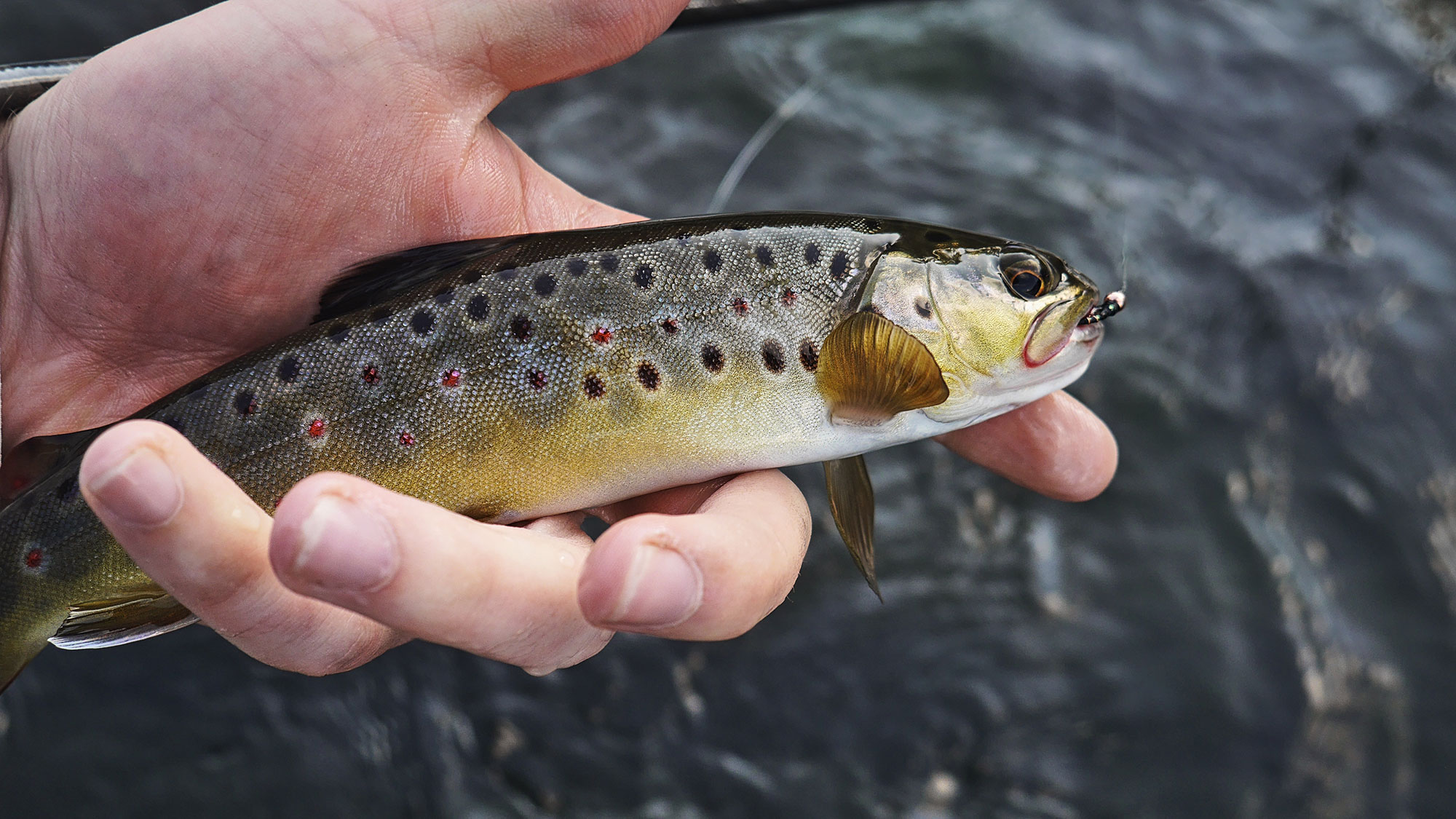 Bamboo Rods for Small Streams
One of the nice things about being a rod maker is that I can make a rod for specific types of water and fishing situations. By not having to buy off the rack I can tailor a rod design or choose a taper based on need not availability. As a resident of Southwest Michigan the majority of my angling takes place on small streams, waters defined by tight quarters and selective trout. The Midwest's big three, Michigan, Wisconsin and Minnesota are blessed with hundreds of miles of rivers and creeks which fall into this category. Forty years ago I caught my first trout in just such a stream and though my thoughts on fly patterns and techniques haven't changed much my choice of rods have! When it comes to choosing bamboo rods for small streams I have some definite tastes, some specific requirements that help make my time on the water just a little more rewarding.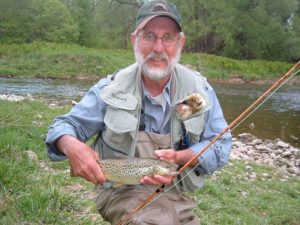 Before we take a look at specific materials, designs and rod makers I think it's important to explain what a good small stream rod is or more importantly what it should accomplish. First of all because of the varying conditions found on small streams, every thing from jump across cedar swamp creeks to larger meadow streams, a good small stream rod should cast a short line as well as toss the fly out there a ways. I'd call a short cast a rod's length of line plus a 7-9 foot tapered leader. Long distances on typical smaller streams are from 35-45 feet, that's a good toss in anybodies book. By the way any good rod should do everything in between long and short. It's important that a rod work off the tip, flex into to the middle and bend in the butt for those power casts.
In terms of rod lengths for small water I prefer 6'3" to 7 feet give or take a few inches. Watch out for rods less than 6 feet long as they are difficult to cast and really not for us mere mortals. Line weights are also an important consideration and I will state emphatically that I am not a fan of light lines; they just manage to kill fish. Rods designed to carry 1, 2 and some 3 weight lines do not have the backbone to land fair sized fish quickly and efficiently. If you are into downsized fish then use downsized lines. For my money I'll stick with 4 and 5 wt. lines and extend my leader and lighten my tippet for the really fussy feeders.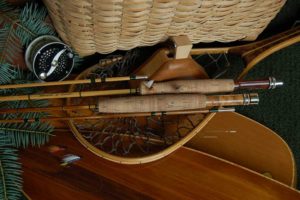 A good small stream rod feels light in the hand, balancing well enough to be almost unnoticeable while stalking a fish. Another very important consideration is the material the blank is made of. Good rods should be able to absorb the shock of a violent strike and protect fine tippets, (all the way down to 8X, no fooling I have witnessed good cane rods land hefty fish on 8X.) Quality fiberglass, early grey graphite, IM6 graphite as well as split bamboo can all accomplish this, with my vote going to split bamboo as the superior material. Fortunately for today's angler there were classic split bamboo rod makers who created just what the small stream angler needs, so let's take a look at some of them.
When I think of classic Midwest rod makers two of the most famous immediately come to mind, Paul Young and Lyle Dickerson. Both were from Michigan, spent time in the Detroit area and finished their careers "Up North" close to the trout streams they loved. Both craftsmen exhibited true genius by being able to design and make rods for a wide range of water types and fishing situations. To the angling world's good fortune many examples of Young and Dickerson rods are still around for modern rod makers to measure and recreate.
When searching for or ordering a custom bamboo rod for small streams Paul Young's Midge and Driggs River designs would be hard to beat. Both rods have the spunk to land larger fish in tight quarters and are a joy to cast. Paul Young designed the rods specifically for Midwest streams and his unique compound tapers can be successfully reproduced by today's competent cane rod makers. If I had to choose between the Midge and the Driggs tapers I'd favor the 7'2" 4/5 wt. Driggs River. It's about as versatile a small stream rod as one would want. I have crafted rods designed on this taper and fished them for years in places as diverse as The Beaverkill, Spruce Creek and Free Stone streams of The Adirondacks. The Driggs rod has always did what I asked of it. On the other hand if the majority of your fishing is with small flies, size 18-22 then the Midge measuring 6'3" and taking a 4 wt. line would be, I believe, the better choice.
Lyle Dickerson is best known for the powerhouses he created in cane like his Guide's Special and his smaller 8013 model (8ft. 13/64ths ferrule). Dickerson made fast, stiff fly rods and had the ability to transfer these qualities to his line of lighter and shorter rods. My experience with Dickerson tapers is limited but the #7011 Dickerson reproduction I cast last summer near Lovells Michigan was a beauty. If quick, powerful rods are to your liking then take a close look at The Dickerson designs. Other small rods by Dickerson are his 6611, 6'6" 4 wt. and the delicate #7012, 7' 4wt. Jack Howells in his well respected book "The Lovely Reed" describes the Dickerson tapers quite nicely and his comments are well worth considering.
Young and Dickerson designs are as different as night and day. Young designs allowed for lighter butt dimensions with heftier mid sections. Lyle Dickerson liked to place the power near the grip and utilized the traditional "swelled butt" design often seen in Eastern rod designs.
The choice is up to you, some guys prefer blondes while others wink at brunettes.
To wrap things up I'd like to leave you with two other styles of small stream rods to consider. Everett Garrison and Jim Payne were Eastern rod makers in the same vein as Young and Dickerson. As master craftsmen and rod designers of equal, if not more importance, they created some lovely small stream rods suitable for Midwest streams. For the sake of comparison Garrison is to Payne as Young is to Dickerson. Just as Paul Young is noted for his parabolic tapers, Everett Garrison also gained fame for creating elegant semi parabolic rods. Payne, like Dickerson made the most of the swelled butt concept.
If smooth yet authoritative describes the style of small stream rod you are looking for then the Garrison 193, 6'9" 4wt. model 201, 7' 4wt. or 202 or 202 E 7" 5wt. are good examples of small stream fly rods. A day of fishing with one of Mr. Garrison's smaller rods is pure pleasure, whether you catch a fish or not! If you are searching for what I'd call a gentleman's rod then choose Garrison's 7'4 wt. model 201. The 201 whether on the stream or lawn casting after work is a real stress reliever?
Rods designed by Jim Payne are quicker than but just as smooth as a Garrison. For fast dry fly action I really like the Payne model 97 and 98, with the 98 having a faster action. They are both 7 foot rods taking 4 wt lines. On occasion I use a 5wt. line on the model 98 if casting in close quarters. The model 97 has a moderate dry fly action but if you want a firecracker, a rod action that goes POW! The 98 is for you. It's one of my favorite dry fly rod designs.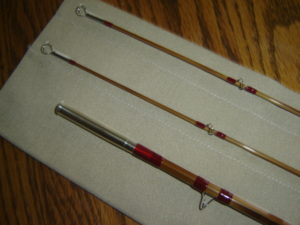 The original cosmetics, (hardware and thread wraps), used by the four rod makers were most often understated, nothing too fancy. A Garrison like the Dickerson rods was made with blonde blanks while Young flamed his cane achieving a dark mottled effect. Similarly Payne rods were toned to a rich shade of brown. Modern rod makers can effectively reproduce both the look and action of these and other classic rod designs. Prices for the original rods are high, starting in the two thousand dollar range with some rods double or even triple the cost. Fortunately experienced modern rod makers, craftsmen like Bob Summers, Don Schroeder, Jeff Wagner, Dave Norling, and John Pickard are able to accurately reproduce classic Midwest tapers for a much lower cost. If price tags are an important consideration then find one of the many semi professional rod makers now on the scene. Their work is often excellent but make sure to get references. If they haven't made enough rods to provide adequate references then I'd be very cautious.
In conclusion, if your style or inclination requires a fast action rod the Dickerson and Payne designs are sound choices. The Young and Garrison tapers, while not necessarily slower, are rather a bit more moderate in action. Now I'll stick my neck out! If I had to choose a rod specifically for small Midwestern streams I'd select Young rods first and the Garrison designs for those times I wanted a relaxed day on the stream. But like shotguns, boats and bird dogs, one should never be asked or expected to choose just one! See you on the stream.